6ème édition des Prix New Heads – Fondation BNP Paribas Art Awards
19 janvier 2018
Le vernissage de l'exposition PROXY PARADISE a été l'occasion de révéler les choix du jury, du journal Le Temps, et des collaborateurs BNP Paribas Suisse.
La 6ème édition des Prix New Heads ne ressemble en rien aux précédentes. Son curateur, Balthazar Lovay, directeur de Fri-Art, Kunsthalle Fribourg a invité les artistes à travailler selon un mode participatif en concevant ensemble la forme de leur exposition.
Les lauréats de la 6ème édition des Prix New Heads
« Les douze artistes présent-e-s dans Proxy Paradise ont décidé de tenter une expérience, celle de mettre la question du concours et de la rivalité de côté. De jouer ensemble dans l'exposition plutôt que les uns contre les autres » explique Balthazar Lovay.
Lors du prévernissage des Prix New Heads, qui s'est tenu mardi 16 janvier 2018 en présence des artistes et du curateur, une quarantaine de collaborateurs de BNP Paribas en Suisse ont voté. Lors de la présentation de leurs travaux, les artistes en concours ont fait part de leur désir de faire primer le projet d'exposition dans son ensemble. Sensible à leur démarche, le jury composé des collaborateurs de BNP Paribas a décidé d'attribuer le Prix à un ensemble d'artistes de Proxy Paradise (Marie Bette, Yannis Christ, Hope Free, Hugo Hemmi, Carisa Mitchell, Raphaëlle Mueller & Vanessa Lorenzo, Sarah Sandler, Charlotte Schaer, Baker Wardlaw, Anaïs Wenger). Jeudi 18 janvier, le jury international professionnel, composé de Caroline Busta (critique d'art, Berlin), Jan Kaps (glaeriste, Cologne), Andreas Melas (collectionneur, Athènes), Emanuel Rossetti (artiste, Bâle) et Judith Welter (directrice, Kunsthaus de Glaris), ont également rencontré les jeunes artistes et ont dû faire un choix.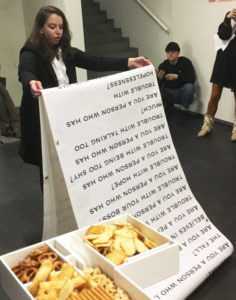 Carisa Mitchell pour sa performance intitulée « Expectations and Questioned Tension ; Do You Have Trouble With Your Lifestyle ? ». En cohérence avec leur démarche artistique sur cette exposition, l'artiste a annoncé d'office qu'elle partagerait le Prix avec les onze autres participants.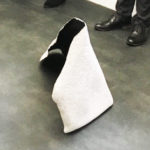 Le Temps, il a choisi de récompenser Marie Bette pour « ses sculptures en papier mâché recouverte de gomme arabique, parfois peinte, qui revendique leur statut d'objets rustiques habités par l'histoire de l'art du minimalisme à la pratique du fait main ». Le journal éditera donc une œuvre multiple de l'artiste qui sera proposé dans quelques semaines à ses abonnés.
Venez découvrir l'exposition
L'exposition PROXY PARADISE est ouvert en libre accès à l'espace Living Your Head (2 rue Général Dufour) jusqu'au 9 février 2018. Le travail des artistes sera également exposé sur le stand des Prix New Heads – Fondation BNP Paribas Art Awards au salon artgenève qui se tiendra du 1er au 4 février à Palexpo.