A collaborative edition of the New Heads – Fondation BNP Paribas Art Awards
January 19, 2018
The awards ceremony for the New Heads – Fondation BNP Paribas Art Awards took place at the opening of the PROXY PARADISE exhibition.
The sixth edition of the New Heads Awards has no resemblance to those of previous years. The curator, Balthazar Lovay, the Artistic Director of Fri Art, Kunsthalle Fribourg in Switzerland invited the artists to work in a participatory process and to think together about the exhibition form. For the third year the exhibition is associated to the artgenève art show, which takes place from 1st to 4th January at Palexpo in Geneva.
The winners of the 6th New Heads Awards
During the preview of the New Heads Awards, which took place on Tuesday 16 January 2018, in the presence of the artists and the curator, around 40 BNP Paribas employees in Switzerland voted for their favorite artist. During their presentation, the artists indicated their willingness to underlight the exhibition as a whole and encouraged the employees to vote for all the artists and not just for one of them. Empathy to their approach, a majority of the BNP Paribas collaborators have decided to award all the artists of Proxy paradise. On Thursday, 18 January, the Professional Jury, made up of Caroline Busta (art critic, Berlin), Jan Kaps (gallery owner, Cologne), Andreas Melas (collector, Athens), Emanuel Rossetti (artist, Bâle) and Judith Welter (director, Kunsthaus of Glarus), also met the young artists and were asked to cast their votes.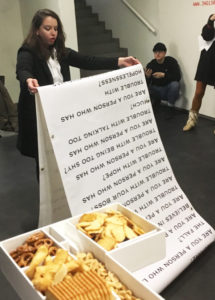 PROXY PARADISE exhibition is open and free of charge at the Living Your Head gallery (2 rue Général Dufour) until 9th February (from Wednesday to Saturday, 2 pm to 7 pm). The artists' work will also be exhibited at the New Heads – Fondation BNP Paribas Art Awards stand at the artgenève art show from 1st to 4th February in Palexpo.