Isabelle Wolff wurde zur Head of Company Engagement in der Schweiz
19 November 2019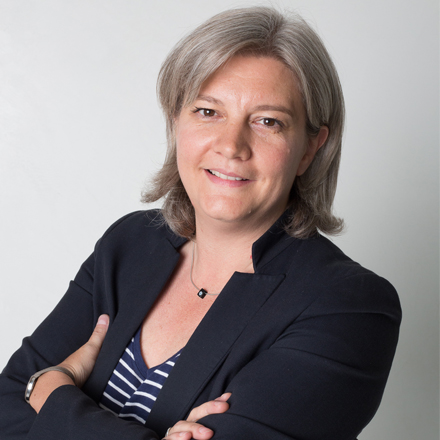 Isabelle Wolff zur Head of Company Engagement bei BNP Paribas (Suisse) SA ernannt.
Im Rahmen dieser Ernennung bleibt sie weiterhin als Head of Brand & Communication tätig und ist nun zudem, im Einklang mit der Konzernrichtlinie, für die Aktivitäten im Bereich soziale Verantwortung und die Stiftung BNP Paribas Swiss Foundation verantwortlich. Zudem ist sie damit betraut, die Umsetzung der Diversitätspolitik der Bank in der Schweiz zu koordinieren.
Isabelle Wolff kam 1999 zur BNP Paribas-Gruppe und war zunächst im Geschäftsbereich BNP Paribas Leasing Solutions tätig. 2002 wechselte sie in das Communication Team der Gruppe und leistete dort im Bereich der internen Kommunikation sowie durch ihre hohe Medienkompetenz einen großen Beitrag zum Schutz und zur Verbesserung des Images der Bank.
Im Rahmen ihrer Tätigkeit war sie an der Umsetzung und Förderung von Großprojekten des Konzerns im Bereich des gesellschaftlichen Engagements beteiligt, die in Zusammenarbeit mit Organisationen wie Adie und Afev erfolgten. Hier ist insbesondere das Projet Banlieues zu nennen. Seit 2014 unterstützt sie die Bank in der Schweiz bei der Definition und Umsetzung ihrer Kommunikationsstrategie.
BNP Paribas hat sein unternehmerisches Engagement zu einem wesentlichen Bestandteil seiner Entwicklungsstrategie erklärt. Ich nehme diese Aufgabe sehr ernst, denn ich sehe es als unsere Pflicht, den hohen gesellschaftlichen Erwartungen zu entsprechen und uns zu einer nachhaltigen und leistungsstarken Bank zu entwickeln.
Im Rahmen meiner Tätigkeiten bin ich sehr darum bemüht, die lokale Umsetzung der Konzernrichtlinie für gesellschaftliches Engagement in den vier Bereichen Energiewende und Umweltschutz, soziale Integration von Jugendlichen, Unternehmertum und lokale Entwicklung zu fördern.