BNP Paribas, die große europäische Bank des Kinos, engagiert sich weiter im Bereich Filmkunst. Als offizieller Partner und Gründer unterstützt die Bank die dritte Ausgabe von "Think Cinema Lausanne" , ein internationales Jahresevent, das von Vincent Perez ins Leben gerufen wurde.
Die Filmindustrie und BNP Paribas teilen 100 Jahre gemeinsame Geschichte
2017 krönte die hundertjährige Geschichte zwischen BNP Paribas und der Filmindustrie.
Über ein ganzes Jahrhundert hinweg konnte BNP Paribas eine besondere Beziehung zur Filmindustrie aufbauen, gemeinsame Werte pflegen und somit zur großen europäischen Bank des Kinos avancieren.
BNP Paribas ist ein Hauptakteur bei der Finanzierung audiovisueller Produktionen und exklusiver Partner der nationalen Maßnahmen zur Förderung des Kino-Filmkonsum. BNP Paribas unterstützt die Filmfinanzierung über seinen BNP Paribas-Pol "Bild & Medien", der sich ausschließlich aus Experten zusammensetzt, die sich mit kinematografischen und audiovisuellen Aktivitäten beschäftigen. BNP Paribas finanziert die französische audiovisuelle Produktion jährlich zur Hälfte und freut sich über wachsende Kino-Zuschauerzahlen.
Als Unterstützerin des Filmerbes beteiligt sich BNP Paribas mit Stolz an der Restaurierung großer Kinoklassiker wie z.B. "Moderne Zeiten" von Charlie Chaplin oder "Die Mädchen von Rochefort" von Jacques Demy.
Die Unternehmensgruppe unterstützt zudem mehr als 40 Filmfestivals in Europa und startete 2012 das Webradio für Kinofans "Séance Radio" sowie die App "Séance Ciné" für die unkomplizierte Organisation von Kinobesuchen mit Freunden.
In einer Welt des Wandels und mit der Entwicklung immer neuer Anwendungen ist es ein Anliegen von BNP Paribas, das Kino in seiner Entwicklung mehr denn je zu unterstützen und rückt die Innovation in das Zentrum seines Engagements. Die Unternehmensgruppe bietet somit in Zusammenarbeit mit dem MK2 VR und dem VR Arles Festival seinem Publikum die Entdeckung neuer Möglichkeiten des Filmkonsums an, wie z.B. die der virtuellen Realität.
« Das Kino hat sich wie selbstverständlich zu einer Herzensangelegenheit der Marke BNP Paribas entwickelt, und die Unternehmensgruppe ist heute in der gesamten Wertschöpfungskette der Filmkunst präsent, von der Entstehung bis zum Vertrieb. Mit BNP Paribas können Sie sich immer vom Kino inspirieren lassen und wir freuen uns sehr, Teil von "Think Cinema Lausanne" zu sein.
Die dritte Ausgabe dieses bedeutenden Events, zwischen Filmerbe und Filmneuheiten, vereint Werte, die uns am Herzen liegen: Überlieferung und Innovation. Wir laden alle Generationen auf eine Reise in die Filmkunst ein »
Monique Vialatou, CEO von BNP Paribas in der Schweiz
"Think Cinema", ein internationales Jahresevent, das vom Schauspieler und Regisseur Vincent Perez in Leben gerufen wurde
Bei der dritten Ausgabe des Festivals "Think Cinema", das vom 4. bis zum 8. März 2020 stattfindet, geht es um die Wertschätzung des Filmerbes. Die zweite Ausgabe war bereits ein unglaublicher Erfolg: An dem 4-tägigen Festival nahmen etwa 10.000 Besucher teil.
Das Festivalthema in diesem Jahr sind Liebesgeschichten. Es lädt auf eine Reise durch die Filmgeschichte ein, bei der Paar- und Liebesgeschichten gezeigt werden. Dieses Mal werden Darsteller wie Isabella Rosselini, Roland Joffé, Cédric Klapisch, Bertrand Blier und Patrice Leconte anwesend sein. Darüber hinaus gibt es eine Auswahl an Meisterwerken in Zusammenarbeit mit der Schweizer Cinémathèque auf den Filmleinwänden zu entdecken. Auf dem Programm stehen Filme wie Casablanca, The Piano und Annie Hall.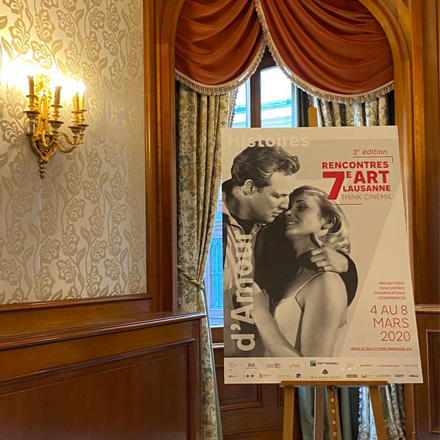 Young film-makers wishing to take part in this year's Mobile Film Festival have until 3 January to submit one or more films on the Festival website. Film entries, which must be one minute long and shot with a mobile phone, should tell a story, express an emotion, or arouse viewer's awareness.
In setting a one-minute format the Mobile Film Festival is matching the competition parameters with current audiovisual consumption patterns. The contest demands sophisticated screen-writing skills from the film director in order to create maximum emotion in a very short space of time.
The Mobile Film Festival – three phases :
From 8 November to 3 January : Entry to the competition open to everyone free-of-charge on mobilefilmfestival.com
From 24 January to 21 February : the online Festival on mobilefilmfestival.com
Tuesday 28 February : Mobile Film Festival Awards ceremony.
A prestigious jury will present the Awards at the closing ceremony of this 12th annual Mobile Film Festival.
The jury will be chaired by Emmanuelle Bercot, actress, screenwriter and film director who won the Best Actress award at the 68th Cannes Film Festival for her role in the film 'Mon Roi' (My King) directed by Maïwenn.
The other jury members are:
Kim Chapiron – screenwriter and film director
Emilie Dequenne – actress, who won the Best Actress award at the 1999 Cannes Film Festival for her role in the film 'Rosetta' directed by the Dardenne brothers
Maïmouna Doucouré – actress, screenwriter and film director, winner of the award for the Best International Short Film at the Sundance Film Festival, and the Short Cuts award for Best Short Film at the Toronto International Film Festival
Julie Gayet – actress, film director and producer
Laurent Grégoire – agent who heads the film actors/directors/screenwriters' agency Adequat
Jalil Lespert – actor and film director
Aïssa Maïga – actress
BNP Paribas is partnering with the Festival for the 6th year running. The Bank will provide a grant of €15,000 to each of the winners of the Festival's two major prizes – one for a film made in France, the other for a film made abroad – to enable them to make a short film with professional equipment, assisted by a professional producer, within a year.
The 2017 Awards and grants are:
Grand Prix International – a grant of €15,000 from BNP Paribas
Grand Prix France – a grant of €15,000 from BNP Paribas
Best Female Actor award
Best Male Actor award
Best Film Production – a grant of €3,000 from CNC (the French National Centre of Cinematography and the moving image)
Best Film Scenario – a grant of €3,000 from CNC (the French National Centre of Cinematography and the moving image)
Best Vertical Film
Bloggers' Prize, awarded by a bloggers' association in partnership with the Golden Blog Awards
Audience Prize, awarded on the basis of an audience online vote in partnership with French entertainment information website TOPITO
SensCritique Prize, awarded by the members of the SensCritique entertainment ratings community
This year, the BNP Paribas Group's financial contribution to the Mobile Film Festival has helped to support last year's winners – Julien Lessi, who will be shooting his short film 'Betty' in Tours; and Zainou El Abidine, who is to shoot his short film 'Billal' in Cairo.
The Mobile Film Festival is very proud that on 1 February the first-ever winner of a BNP Paribas grant, Morgan Simon, is bringing out his first feature film entitled Compte tes blessures ('Count your Blessings'). The film has already carried off some very prestigious awards, including a Jury's Special Mention at the San Sebastian Festival in Spain; and the Best Actor award and Young People's Jury prize at the Saint-Jean-de-Luz Festival in France, the Youth prize and Best Film Director at the Tofifest Film Festival in Poland. The film has also been selected for screening at many other festivals.
About BNP Paribas
BNP Paribas a major player in financing audio-visual production
For over 20 years, BNP Paribas has helped to finance film-making via the BNP Paribas 'Image & Media' department, which is staffed by experts who work exclusively with the film and audio-visual sector. The Group also holds a sizeable stake in French film finance institution Cofiloisirs. Every year BNP Paribas participates in the financing of a substantial proportion of audio-visual productions in France.
BNP Paribas an exclusive partner in initiatives to promote cinema-going in France
BNP Paribas is today the leading supporter of activities run by FNCF, the National Federation of French Cinemas, to boost cinema-going. In 2004, BNP Paribas formed a partnership with FNCF to organise the La Rentrée du Cinéma ('Back from vacation, back to the Cinema') promotional initiative. Then in 2007, BNP Paribas became the exclusive partner for major movie promotion events run at French cinemas – Le Printemps du Cinéma (Spring at the Cinema) and La Fête du Cinéma (Festival of Cinema) in addition to La Rentrée du Cinéma. In 2011 for the first time, BNP Paribas launched, with the support of the FNCF, its own La Rentrée Cinéma programme for staff. The Group is delighted to be able to contribute every year to the popularity of films showing at the cinema by distributing a million tickets at very special prices, thus enabling large numbers of people to enjoy the entertainment of the big screen.
BNP Paribas partners with all types of cinemas
Arthouse and experimental cinema
In 2010 the Group became a partner of the Le Trianon cinema in Romainville/Noisy-Le-Sec in eastern Paris. This partnership helps the cinema to play a unique educational role for young people, while remaining a major venue for all film lovers. In 2013, BNP Paribas began providing support to another iconic Parisian arthouse cinema, Le Balzac, a partnership which is intended to help ensure a diverse range of films on offer in the Champs-Elysées area of Paris.
BNP Paribas and Film Festivals
The Group supports Directors' Fortnight at the Cannes Film Festival, the Télérama Film Festival at La Rochelle in western France, the Grand Lyon Film Festival, and the Academy of Cinema Arts and Techniques, the organisation that gives out the César Awards. BNP Paribas also supports film festivals elsewhere in Europe, including the 'BNP Paribas Fortis Film Days', an initiative that take place in 450 cinemas across Belgium and Italy, and the Rome International Film Festival, for which BNL is the main partner. In addition, BNP Paribas partners with the Mobile Film Festival, which highlights and encourages the creators of one-minute films made with a mobile phone.
Séance Radio and Séance Ciné
In 2012 BNP Paribas launched Séance Radio (Radio Session), a 100% cinema-oriented radio website and app (seanceradio.com; @seanceradio). Séance Radio offers film fans the opportunity to recap 24-7 on the delights of the film world through a number of sessions exclusively dedicated to film plus music content comprising original film scores. In 2014, BNP Paribas launched the Séance Ciné (Cinema Session) app (available at the App Store and on Google Play), which provides an easy way for users to arrange a movie outing with friends.
Education and charity initiatives
BNP Paribas initiatives in this field are driven by a) the Group's strong commitment to promote cinema and b) the Group's Corporate Philanthropy policy, which encourages education and social solidarity. Among other initiatives, BNP Paribas supports the Les Toiles Enchantées (The Magic Screens) charitable organisation led by Isabelle Giordano and Lambert Wilson, whose mission is to enable young hospital in-patients to enjoy entertainment and cultural input by arranging free-of-charge screenings of current general release films.
Film restoration helping to preserve our cultural heritage
BNP Paribas has provided assistance for the restoration of a number of old films, including four Charlie Chaplin films – Modern Times, The Kid, The Gold Rush and The Circus. In 2013 the Bank supported the restoration and digitisation of Jacques Demy's Les Demoiselles de Rochefort (The Young Ladies of Rochefort) and Parade by Jacques Tati. In 2015, BNP Paribas contributed to the restoration of a copy of Gérard Oury's Le Corniaud (The Sucker).
About the Mobile Film Festival
The Mobile Film Festival was launched in 2005 by Bruno Smadja. Over these twelve years the Festival has been dedicated to discovering, financing and providing support to film directors from all over the world, based on the simple format 1 Mobile, 1 Minute, 1 Film.
Young film-makers wishing to take part in the Festival are required to submit one or more films one minute in length which they have shot with a mobile phone.
The decision taken twelve years ago to base the Festival on mobile phone camera work is looking increasingly relevant as mobile use spreads relentlessly across the world and the quality of the technology continues to make great strides, now already giving us HD and even 4K. The Mobile Film Festival concept removes all financial constraints so that anyone and everyone from anywhere in the world can take part under equal conditions. The same goes for the one-minute format, which is fast becoming standard in the wake of Instagram's decision to step video time up to one minute.
For the last twelve years, we have been working in precisely this way to promote creative and inventive film works.
Press Contact
Marine Giovannini
Mobile Film Festival