The 32nd Swiss Open ends on a sunny note
July 23, 2019
The 32nd Swiss Open, a wheelchair tennis tournament, took place last week at the Bois-des-Frères sports centre in Vernier. During the week, the world's top wheelchair tennis players competed against each other in front of enthusiastic spectators that have grown in number over the years.
Daniel Rodrigues won the men's singles title, while Joachim Gérard and Laurent Giammartini won the men's doubles title. Among the women, Japan's Yui Kamiji won the singles title, while the Dana Mathewson-Kgothatso Montjane duo won the doubles title. Lastly, in the Quads category, it was the South African Lucas Sithole who won the singles gold medal, while the doubles title went to the US-Dutch duo of Bryan Barten and Sam Schroder.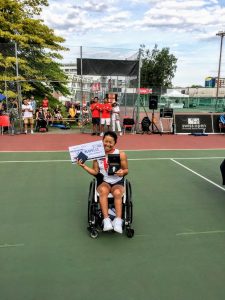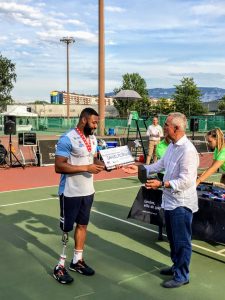 Left – Women's singles winner Yui Kamiji (Japan)
Right – Men's singles winner Daniel Rodrigues (Brazil) with Igor Joly, Executive Officer of the BNP Paribas Foundation
In the company of State Councillor Mauro Poggia and other sponsors of the event, Igor Joly, Executive Officer of the BNP Paribas (Suisse) SA Foundation, spoke at the trophy presentation: "This Swiss Open has had some fantastic matches, and is a major sporting event under the banner of solidarity where inclusion and respect are at the forefront".
In addition to the Foundation's support, more than twenty BNP Paribas (Suisse) SA employees volunteered to give their time and support this exceptional tournament. Whether working behind the bar, serving spectators or helping set up, the employees helped out to ensure that the tournament went smoothly. Many thanks to them.
Many thanks also to the Swiss Open for this wonderful tournament. We are looking forward to next year's event!