BNP Paribas in Switzerland and NGO Raleigh International made a long-lasting difference in Nepal.
May 29, 2019
Between July 2016 and December 2018, BNP Paribas in Switzerland worked with Youth-led sustainable development NGO Raleigh International to contribute to the reconstruction and sustainable development of Nepal. The joint actions on water, sanitation and hygiene had deep and vital impact for 16 isolated rural Nepali communities.
Nepal, a country devastated by two dramatic earthquakes in 2015
Nepal is the second poorest country in Asia. It has traditionally struggled to provide sufficient and safe water and sanitation coverage in its communities, particularly among those living in rural and hard to reach areas. The two devastating earthquakes, which hit Nepal in 2015, caused widespread damage to its already poorly functioning infrastructure and exacerbated an already grave situation.
Gorkha district, to the north-west of Kathmandu, was the epicentre of the first earthquake that struck in April 2015. Its communities represent some of the very worst affected, with just 30% of people (among a population of 271,061) able to access a protected source of safe water following the earthquake.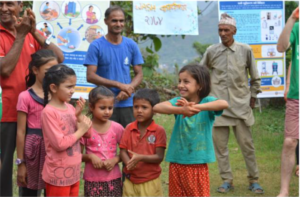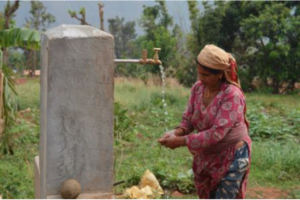 A strategic partnership to improve safe water, sanitation and hygiene (WASH) infrastructures and practices
With a strong will to act as a responsible bank and to be a positive agent for change in our societies, BNP Paribas in Switzerland united in a 3-year partnership with Raleigh International, a non-governmental organization that aspire to create lasting change through youth in communities in need.
Between July 2016 and December 2018, BNP Paribas (Suisse) SA and Raleigh International worked together to bring safe water and sanitation to households in 16 of Nepal's worst affected communities.
Over 1,500 people now benefit from increased access to safe and clean water, almost 400 were supported to construct sanitation facilities and nearly 800 people now have handwashing stations outside their homes. Safe hygiene practices have been promoted in the communities through a series of awareness events, contributing to positive WASH-related behavior change.
A sustainable impact with the engagement of the local communities
The project was delivered by engaging international volunteers, among which 7 were managers of the bank. But also by engaging national youth, in order both to build their personal employability and leadership skills and to create a legacy of engaged and skilled Nepali youth.
The local communities were also fully committed and involved in every stage of project delivery to encourage ownership of the interventions. All construction work was delivered against the standards set by the National Reconstruction Authority, helping to ensure the infrastructure has greater resilience to future shocks.
Now, 89% of people reported that they feel their lives are better following delivery of WASH interventions in their community and that they are able to access sufficient quantities of clean, safe water within 30 minutes of their home.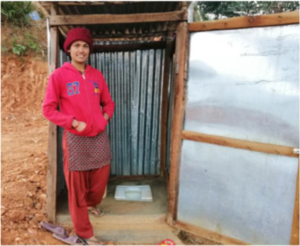 Have a look at the key numbers :