Enna Pariset wird leiterin des geschäftsbereichs Corporate and Commodities Coverage von BNP Paribas in der Schweiz
5 April 2018
Ab April wird Enna Pariset Head of Corporate and Commodities Coverage für BNP Paribas in der Schweiz. Sie wird von Genf und Zürich aus arbeiten.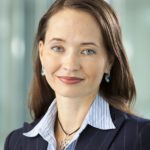 Enna Pariset verfügt über 25 Jahre Berufserfahrung in den USA, in Grossbritannien, Frankreich und in der Schweiz. Sie begann ihre Karriere bei der Weltbank in Washington DC. Bevor sie zu BNP Paribas kam, arbeitet Enna Pariset für JP Morgan in London und Paris.
Enna ist seit fast 15 Jahren bei BNP Paribas tätig, sowohl in der Gewinnung und Betreuung von Kunden als auch im Management. Sie nahm Managementfunktionen in den Bereichen Mergers & Acquisitions, Commodities und Coverage wahr. Unter anderem leitete sie als Global Head das Investment Banking für Metals and Mining. Vor ihrer neuen Aufgabe war sie während der vergangenen zwei Jahre Head of Food, Beverage and Retail Investment Banking EMEA.
Enna Pariset wird zum einen an Patrick Voegeli, Mitglied der Geschäftsleitung der BNP Paribas S.A. (Schweiz) und Head of Corporate and Institutional Banking in der Schweiz, rapportieren und zum anderen, an Christopher Kramme, Co-Leiter des Geschäftsbereichs Corporate Coverage für die BNP Paribas Group in EMEA.
Enna Pariset folgt auf Dorothée Regazzoni, die zur Leiterin des Geschäftsbereichs Corporate Coverage von BNP Paribas für Deutschland berufen wurde.