BD Zoom Award 2020 : Tom Tirabosco winner !
May 26, 2020
750 high school pupils award the BD Zoom 2020 prize to Tom Tirabosco for his comic book "Femme sauvage". This award highlights the energy and diversity of comic books while promoting an interest in reading. It is awarded in partnership with the BNP Paribas Swiss Foundation.
The BD Zoom prize introduces contemporary comic books to pupils at several schools in the Department of Public Education, Training and Youth and allows them to meet the authors in class. Between October and February, there were a total of 120 personal visits by the six selected authors, in addition to visits to workshops and exhibitions. At the end of this first phase, the pupils selected three finalists: Femme sauvage by Tom Tirabosco (Futuropolis), L'enquête de l'inspecteur Mc Cullehan by Pierre Schilling (Les requins marteaux) and Saccage by Frederk Peeters (Atrabile).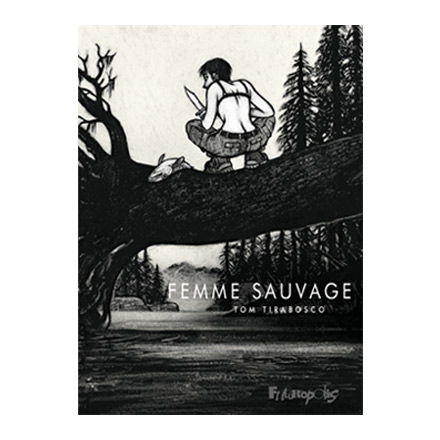 Due to the COVID-19 health guidelines in place, including the closure of schools, the final vote by pupils took place remotely. The three finalists took advantage of new technology and made short videos for the pupils to recapture their interest, reactivate the creative exchange and assist them in making their decision.
The pupils particularly appreciated Tom Tirabosco's Femme sauvage, a black-and-white comic book that follows the quest of an angry woman as she flees a chaotic world to go and live with rebels in the forest. Her journey will push her to the limit. This environmental theme is particularly appropriate in the current context. Tom Tirabosco already won the BD Zoom prize in 2016 with his comic book Wonderland (Atrabile).
In addition to its educational goals, the BD Zoom prize specifically aims to cultivate cooperation between the various entities in the Department of Public Education, Training and Youth, including business students at ECG Aimée-Stitelmann. This prize reflects the philosophy of the Ecole&Culture programme, which encourages all pupils to engage with culture. It is part of the canton's support for the book industry aimed at highlighting the importance of illustration, comic books and posters in Geneva.
The BD Zoom prize includes a cash award of CHF 10,000. It is the result of an innovative public-private partnership between the Department of Public Education, Training and Youth and the BNP Paribas Swiss Foundation, which is a founding partner. This prize is part of the Foundation's efforts to foster education, social inclusion and local culture.
This year, the the awards ceremony had to be reinvented. The Salon du Livre festival, to which pupils are traditionally invited for the ceremony, has been moved to the autumn. The BD Zoom prize took advantage of this opportunity to create a new concept, organising an augmented version of the event in Carouge, in cooperation with venues exhibiting the authors nominated for the prize. The pupils were meant to visit these exhibitions before the final ceremony. Unfortunately, this programme had to be cancelled due to the pandemic.
Contacts
Laurence Anthony
BRAND & COMMUNICATION – BNP PARIBAS (SUISSE) SA
Nadia Keckeis
DIRECTOR – SCHOOLS AND SPORT, ART, CITIZENSHIP