The BNP Paribas Swiss Foundation supports Swiss artists through its collection
April 5, 2018
Supporting young Swiss artists
For several years, the BNP Paribas Swiss Foundation has encouraged the acquisition of works from young artists, in connection with or from Switzerland, with the aim of invigorating and expanding its art collection. As such, the historical collection of BNP Paribas in Switzerland has been enriched with paintings from Marco Scorti, Claudia Comte and Guillaume Dénervaud.  
BNP Paribas Suisse Collection lends an artwork to Art Paris
Highlighting the work of these young artists is another way of supporting and promoting them. With this in mind, starting April, the BNP Paribas Swiss Foundation is proud to lend an artwork from its collection to Art Paris at the Grand Palais.
This year, the art festival celebrates its 20th anniversary and Switzerland is the featured country. Four Swiss artists have been invited to exhibit a selection of their work in the Les murs area. The young artist Sébastien Mettraux from the Canton of Vaud will be presenting some works, including a large painting from the Ex Machina series, recently acquired by the BNP Paribas Swiss Foundation.      
Sébastien Mettraux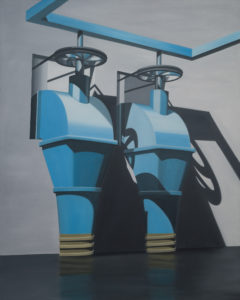 Untitled, from the serie Ex Machina, 2015, 200x160cm Born in Vallorbe in 1984, the artist Sébastien Mettraux grew up in the industrial region of Jura in the Canton of Vaud. As a young man, he carried out apprenticeships in factories where he was captivated by the aesthetics of their machines that he reproduced with a voluntarily classic picturesque technique, chiaroscuro, the use of light and dark, toying with volumes and perspective. The machines became hieratic and imposing portraits, where their functionality disappeared. Sébastien Mettraux studied at HEAD in Geneva and at ECAL in Lausanne. He is laureate of the Leenards Foundation.