The BNP Paribas Swiss Foundation supports artists in Switzerland through its collection
August 30, 2018
Support of Switzerland's budding art scene
Eager to animate and expand its collection of works of art, the BNP Paribas Swiss Foundation has chosen to focus on the acquisition of works from young Swiss artists or those having some tie to Switzerland. In this way, the works of promising artists like Marco Scorti, Claudia Comte and Guillaume Dénervaud are now a part of BNP Paribas in Switzerland's historical collection.
Aurélie Pétrel makes her mark on the customer lobby in Geneva
This year, it's Aurélie Pétrel who has been comissioned to create an artwork in-situ at the heart of BNP Paribas in Switzerland. The young artist created a monumental cubic structure of 2.5 m3 made up of photographic prints on wooden, steel and glass strips. It is, so to speak, a portrait of the Bank, inspired by photos from the archives, employees' testimonies and works from the collection.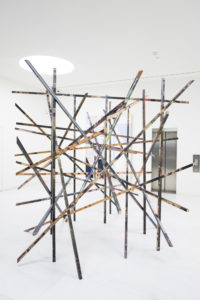 Aurélie Pétrel Axionométrie, 2018, Digital print on wood, steel and glass 250 cm3 © Jérémie Spierer Adorning the great white marble hall in a spectacular fashion, Place de Hollande, Axionométrie is now an integral part of the Bank's identity.
Aurélie Pétrel given free reign by the Elysée Museum to carry out her work
Although the final result is sculptural, Aurélie Pétrel's work is first and foremost photographic. It perpetually questions the status of the image, which it deconstructs only to offer a new spatio-temporal perspective.
Aurélie Pétrel, Héxagone 18 (evolving installation), LabElysée, Musée de L'Elysée, Lausanne, May-September 2018 © Yannick Lutry As an echo of Axionométrie, which represents an important stage in her work, the artist is currently prolonging her artistic research at the Elysée Museum in Lausanne. The institution has invited her to develop a project over several months at the LabElysée, an experimental venue focused on digital, within the museum. Aurélie Pétrel's installation is both progressive and immersive, its starting point being snapshots taken in a start-up company. From this source a great many images are made, then endlessly transformed, in a fragmented, digitalised and virtual manner. Entitled Hexagone18, her installation can be viewed until 23 September.
The BNP Paribas Swiss Foundation, partner of the LabElysée
Since 2017, the BNP Paribas Swiss Foundation has been collaborating with the Elysée Museum in the development of a new experimental space dedicated to digital culture: the LabElysée. A working site at the heart of the museum, the LabElysée questions the way in which a cultural institution dedicated to photography plays with new technologies. In an age where the internet has become a creative tool, the LabElysée invites the visitor, at the museum and online, to follow and participate in the conception process of the photographic museum of tomorrow.