Nomination : Herbert Bolliger and Yannick Jung are nominated for the BNP Paribas (Suisse) SA board of directors
February 9, 2018
Two great figures are nominated as directors within the Board of Directors for BNP Paribas in Switzerland.
"We are glad to welcome Herbert Bolliger, ex-Managing Director of Migros and Yannick Jung, Head of Global Banking EMEA , as a member of the Board of Directors at BNP PARIBAS. We are delighted by these nominations, which will enable Herbert and Yannick to bring all their economic and banking expertise to our bank." Jean-Clamon – Chairman of the BNP Paribas (Suisse) SA Board of Directors Geoffroy Bazin -CEO BNP Paribas in Switzerland
Biographies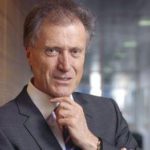 Yannick Jung joined BNP Paribas in 1997 in Paris, where he worked in structured finance and in the media and telecommunications sector. In 2007, he was then appointed Manager of the Tokyo branch for five years. Yannick returned to Paris in 2012 where he held various positions, including Head of Coverage for Corporates in the EMEA region and Head of the business Corporate Clients Financing and Advisory EMEA. He is currently Head of Global Banking EMEA.