Meeting with Frédéric Lahoude
June 29, 2020
The Geneva Resilience Hack, which took place in mid-June, is an initiative of Open Geneva, the Department of Economic Development of the Canton of Geneva, the University of Geneva and HES-SO Geneva. This event is part of the work of the Crisis and Resilience Innovation Fund, of which BNP Paribas in Switzerland is a partner.
The goal of the initiative is to come up with innovative and cooperative solutions to existing and future challenges to address the economic setbacks caused by the recent health crisis.
We met up with one of our staff members who participated in the event, Frédéric Lahoude, to hear his thoughts.
Why did you decide to get involved in the Resilience Hack? Did you have any idea of what to expect?
I was already pretty busy when I received the invitation, so at first I wasn't sure if I would sign up. When the reminder arrived, I took some time to look through the various themes and the first one (remote work-mobility-work spaces-wellbeing at work) sounded interesting, given my experience over the last few months. This was the first time I had ever signed up to a hackathon, but I had heard about them from some friends who had taken part previously. I looked at the details and made sure I could be free for the event (Friday 12 June at midday to Sunday 14 June at midday).
I seriously thought I could share my experience and contribute to this working group, while also benefiting from the discussions.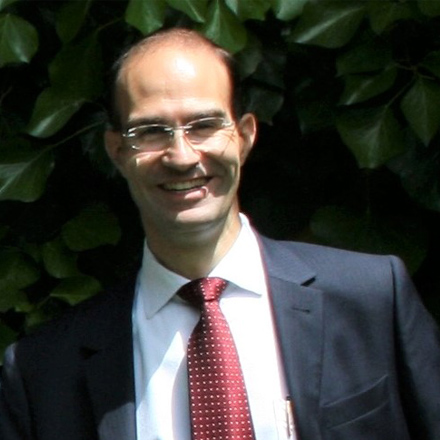 What's a hackathon?
It basically involves pooling a range of skills to do some fast-paced brainstorming on a topic. It's like a fast-track incubator.
Which project did you work on?
Someone in the group suggested working on a self-evaluation tool to improve the remote work experience.
At the start of the hackathon, almost 30 people signed up to work on this topic, and nine of us remained active.
There was a range of professional backgrounds, which made the discussions even richer.
Participants came from academia, HR, consulting, business services, government bodies, and then there was me from the private sector.
Having such a complementary team was a genuine asset for our group.
The discussions and insights will help change certain habits after lockdown, and will help us manage future crises more effectively."

Frédéric Lahoude
What did the project you were working on involve?
Lockdown disrupted normal work patterns. This resulted in a somewhat sudden and urgent transition to remote work, the limits – but also the potential – of which many people experienced first hand. This new reality highlighted the resources needed to optimise this way of working and reconcile work/life balance with productivity and economic efficiency, while helping reduce our carbon footprint.
So, our working group chose to develop a solution to help (remote) workers and their employers set up or improve the remote working experience. This included a self-evaluation option, leading to personalised recommendations, advice and best practices. The system is intended to act as a tool to support well-being at work, help employees organise and justify remote working arrangements, help manage remote work, and help employers decide whether to implement or expand remote working.
During the hackathon, we worked on an open source tool that offers conversational interfaces and a recommendation engine drawing on a broad set of remote working resources. As such, it provides support at various levels (individuals, teams, departments/services, company), while also serving as a data pool for scientific research on remote work.
What's next for the project?
After the hackathon, six of us have stayed in contact and are keen to continue the adventure.
Our initial goal is to come up with a model effective enough to complete a few pilot projects with different groups.
How will the Resilience Hack have a positive impact post-COVID?
Whether in relation to the theme my team worked on, or the other topics covered, working on real projects helps generate ideas to combat future crises (a pandemic, or something else), taking the COVID-19 experience on board and the ideas put forward during the hackathon. We covered a broad range of topics, problems and solutions (SMEs, tourism (including business tourism), culture, healthcare, employment, training, automation of certain high-risk professions, local manufacturing, remote project management for NGOs, technologies for shops and restaurants, etc.).
Even though not all the ideas will take shape, the discussions and insights will help change certain habits after lockdown, and will help us manage future crises more effectively.
What have you taken away from this experience? Would you recommend it?
The three days at the hackathon were definitely intense (I planned on a personal investment of 10 hours, but ended up doing double). In addition to being my first hackathon, it was also a remote hackathon. So I came into contact with and learnt to use a whole range of collaborative tools (Slack, MIRO, Rocket.Chat, MindMeister, Zoom, Google Docs, etc.).
For me, the diversity and complementarity of participants' backgrounds helped spark engaging and fruitful discussions.
I would definitely recommend this experience.