BNP Paribas Wealth Management receives 3 Awards at the WealthBriefing Swiss Awards 2023
February 10, 2023
We are proud to announce the recognition BNP Paribas Wealth Management Switzerland has received at the WealthBriefing Swiss Awards 2023, where we were awarded in three categories:
Best Customer Facing Digital Capabilities
Best FX Solution Provider
Best Impact Investing
These awards are a testament to the commitment of our teams to excellence in Wealth Management and their dedication to providing the best services and solutions for our clients.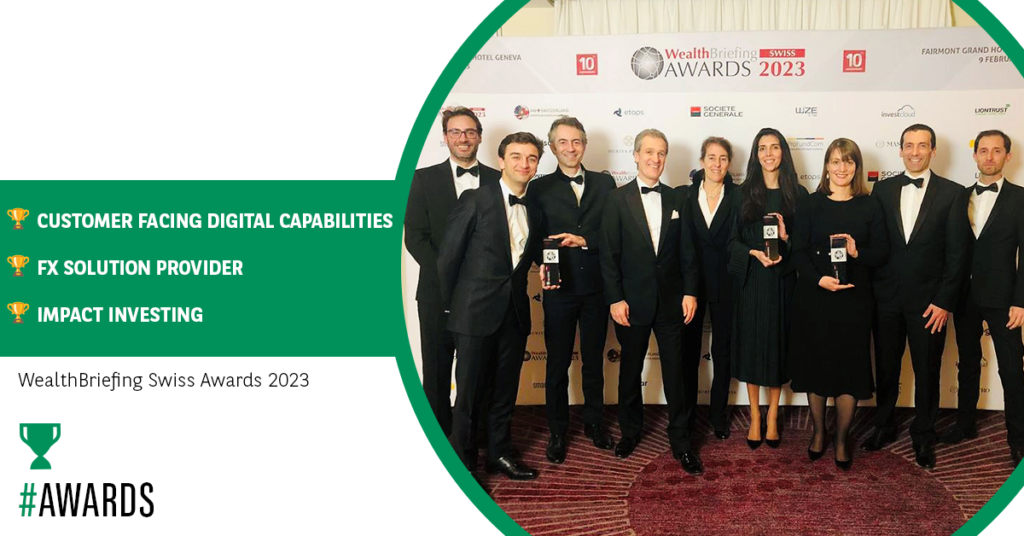 Best Customer-facing Digital Capabilities
"The judges' winner's breadth and security of their services are impressive. By cooperating with clients, start-ups and FinTech's, the winner has selected a comprehensive set of tools that provide an intuitive and outstanding client experience, according to the panel."
Best FX Solution Provider
"The judges' winner demonstrated that its FX processes and monitoring platform offers clients a high-value experience in a highly detailed and compelling submission. Judges were also impressed by their winner's constant improvement of their know-how and framework."
Best Impact Investing
"The judges' winner stood out for its processes and commitment to deliver impact both for its clients as well as the institution. The variety of themes covered by BNP Paribas Solar Impulse Venture Fund was also noted by the judging panel."
Find more details in an interview with Beat Bachmann, CEO of BNP Paribas Wealth Management Switzerland & Emerging Markets, and Caroline Gibault, Head of Offering, Products & Services for BNP Paribas Wealth Management Switzerland.