BNP Paribas Swiss Foundation committed to research on climate change
May 31, 2017
In 2016, the BNP Paribas Swiss Foundation turned a new page and decided to expand its activities to environmental patronage.
By accompanying Swiss institutions and researchers, the Foundation wishes to invest in understanding and building awareness of contemporary climate change, while supporting the local research system.
Already 6 million Euros in environmental research at the BNP Paribas Group!
The Group's Foundation is actively engaged in favour of research on climate change through its programme Climate Initiative.
Around ten or so projects backed by large international laboratories have been funded for up to 6 million Euros since 2010.
As such, the Group's objective is to understand the causes and effects of global warming in order to anticipate the consequences on our environment and on populations throughout the world. The Group also wishes to help citizens become aware of these issues via conferences and exhibitions, among other things.
A new Polar Institute for Switzerland
In 2016 and in line with actions led by the Group, the BNP Paribas Swiss Foundation started supporting environmental research. The Foundation demonstrated its commitment by joining the Swiss Polar Institute .
Based at EPFL, the Swiss Polar Institute is a consortium of Swiss universities – EPFL, the Federal Institute for Research on forests, snow and landscape WSL, ETH Zürich and the University of Bern – created in 2015. Its aim is to make Switzerland one of the key actors and facilitators in the field of extreme environments and polar research via collaborative and international scientific initiatives.
A unique expedition around the Antarctic!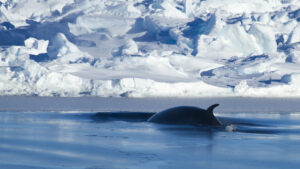 Credit : Swiss Polar Institute
The Institute's first major project is an international, scientific expedition of circumnavigation around the Antarctic continent (Antarctic Circumnavigation Expedition ). This operation, carried out from 20th December 2016 to 19th March 2017 aboard the Russian ship Akademik Treshnikov, was aimed at measuring and quantifying the impact of climate change and pollution in the Southern Ocean. 22 research projects led by 55 researchers from thirty different countries participated in the expedition.
Two Swiss research teams supported by the Foundation
In this context, the BNP Paribas Swiss Foundation chose to support, more specifically, two of the 22 projects present for the expedition. The first, led by Professor Heini Wernli of ETH Zürich, involved "Research on interactions between the air and the ocean", whilst the second is piloted by EPFL with Professor Katherine C. Leonard and focuses on "analysing why the oceans are becoming desalinated".
Come and discover the Foundation's actions!