Tracker Certificates on the Solactive Home Automation Total Return
July 6, 2015
Home automation is no longer a luxury. The smart home trend established itself across a broad swathe of consumer segments some time ago. BNP Paribas now grants investors access to this market of the future, with three new Tracker Certificates on the Solactive Home Automation Total Return Index in Swiss francs (HOMECH, 28374633, CH0283746334), US dollars (HOMEUS, 28374635, CH0283746359) and in Euros (HOMEEU, 28374634, CH0283746342).

Smart home market undergoing rapid growth Home automation allows millions of households to manage their home remotely. Communication with light, heating, ventilation and many other systems at the touch of a button can significantly increase energy efficiency and enhance living quality. Indeed, for some time now digital networking has allowed separate components of daily life to be merged into an overall solution. The worldwide smart home market already generates turnover in excess of USD 60 billion. BI Intelligence analysts predict that the market in 2019 could be worth more than USD 500 billion.

Home automation components already account for 25% of goods traded in the area of "The Internet of Things". Analysts in this area are predicting stronger growth over the coming five years than for smartphones or tablets.

Navigant Research foresees more than 1.1 billion households with intelligent heat regulators by 2022.

On World estimates that more than 100 million lamps and luminaires will be connected to the Internet by 2020. In comparison, the current figure is just 2.4 million according to On World.

Four main drivers of growth There are four main reasons for this rapid market growth in the area of the smart home:

Security: Comfort features like keyless doors, which can tell whether or not residents are home. Security sensors that detect water leaks and break-in alerts and that do not require expensive alarm systems.

Energy efficiency: Intelligent control of energy consumption in the home through regulation of room temperature or lighting and other energy-intensive equipment.

Health: Greater independence in old age thanks to medical supervision and emergency systems.

Lifestyle: Enjoy music, films, photos and Internet everywhere thanks to wireless connected devices that are controlled by a central server.

In coming years, homes will be networked and smarter. Investors can now participate in this growing trend.

BNP Paribas Tracker Certificates on the Solactive Home Automation Total Return Index With the Tracker Certificates on the Solactive Home Automation Total Return Index, investors have access to the major companies in this sector.

The underlying index consists of 26 stocks that are weighted equally when launched. This ensures that smaller businesses operating solely on the smart home market are represented to the same degree as technology giants.

For admission to the index, a minimum market capitalisation of USD 250 million is required, as well as an average daily trading volume over the previous three months of at least USD 2 million. The index is re-weighted annually on the basis of these selection criteria. Dividends and other returns on the equities contained in the index are reinvested (after deducting taxes).

The Tracker Certificates on the Solactive Home Automation Total Return Index are available in Swiss francs, US dollars and Euros. The Certificates offer no currency protection. The products are available for subscription from 6 July 2015 to 23 July 2015. Starting from 31 July 2015, the Certificates can be traded daily on SIX Structured Products Exchange, subject to a bid/ask spread of 1%. The ongoing fee is 1% p.a. The maximum sales charge during the subscription period is 1.5%.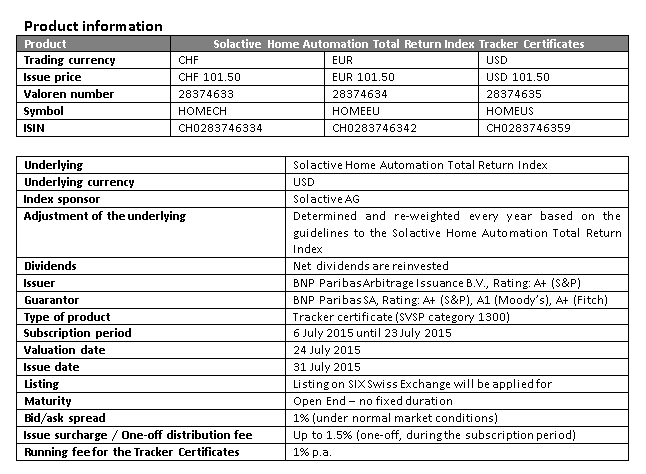 Please contact us should you require further information.


Contacts
Communication
Laurence Anthony
MEDIA RELATIONS
Business
Florian Stasch
Head of Sales and Marketing Exchange Traded Solutions Switzerland
Ludwig Lewicki
Exchange Traded Solutions Switzerland
About BNP Paribas BNP Paribas has a presence in 75 countries with more than 185,000 employees, including 145,000 in Europe. It ranks highly in its two core activities: Retail Banking & Services (comprised of Domestic Markets and International Financial Services) and Corporate & Institutional Banking. In Europe, the Group has four domestic markets (Belgium, France, Italy and Luxembourg) and BNP Paribas Personal Finance is the leader in consumer lending. BNP Paribas is rolling out its integrated retail banking model across Mediterranean basin countries, in Turkey, in Eastern Europe and a large network in the western part of the United States. In its Corporate & Institutional Banking and International Financial Services activities, BNP Paribas also enjoys top positions in Europe, a strong presence in the Americas and solid and fast-growing businesses in Asia-Pacific.