5th New Heads – Fondation BNP Paribas Art Awards
January 24, 2017
The awards ceremony for the "New Heads – Fondation BNP Paribas Art Awards", during which the selections by the Jury, the newspaper Le Temps, and the employees of BNP Paribas Switzerland were announced, took place on Wednesday 18 January 2017, at the opening of the L'ORANGER exhibition.
For their fifth year, the New Heads Awards have taken on a new look. The exhibition curated by Jeanne Graff, is entitled L'ORANGER and marks a change from previous years – fewer artists, a new exhibition space in the heart of Geneva's art district and an impressive range of artistic techniques and genres on display. The exhibition dates have also changed and now coincide with the artgenève art show, which takes place from 26th to 29th January at Palexpo, and is associated with the awards for the second year.
The winners of the 5th New Heads Awards
Inner Pangea – Galaxia Wang
During the preview of the New Heads Awards, which took place on Tuesday, 17 January 2017 in the presence of the artists and curator Jeanne Graff, some 40 BNP Paribas employees in Switzerland voted for their favourite artwork. The results were very tight, but the award finally went to Galaxia Wang who won the Employees' Award with his work entitled Inner Pangea.
« His work truly takes you out of yourself – it's impossible not to be totally caught up in it. The Chinese artist tells of his return from a journey to Greenland – and of the eye operation he underwent aged 14, which resulted in synaesthesia (the ability to see words and emotions in colour) – through a series of sparkling digital fireflies which crash into a sort of cloud made of white gloves.»
Emmanuel Grandjean «Jeunes têtes chercheuses à la HEAD », published on 18 January 2017 in LE TEMPS
On Wednesday, 18 January, the Professional Jury, made up of Anne Dressen, curator at the Musée d'Art Moderne de la Ville de Paris, Linyao Kiki Liu, director of the Sishang Art Museum in Beijing, Francesca Pia, a Zurich gallery-owner, Rosmarie Richner, secretary-general of the Fondation Nestlé pour l'Art, Jacqueline Uhlmann, co-director of the Liste Art Fair in Basel and Elisabeth Chardon, a journalist at Le Temps, also met the young artists and were asked to cast their votes.
After a series of animated discussions, they found themselves unable to decide between Sabrina Röthlisberger and Gaia Vincensini, and therefore decided to make them joint winners.
Gaia Vincensini's engravings, armor, costumes and installations blend art with daily life, creating a dreamlike imagined community of women, who might be either real or symbolic, engaged in a fight for emancipation. The young artist's work is strongly inspired by her own experience and personal feelings.
Jeanne Graff and Gaia at the preview and presentation of "Legitimacy, Loyality, Claritye" and "Titanium"
For the L'ORANGER exhibition, the artist presented an engraved triptych and a hand-plated copper combination, engraved with the strong slogans and messages often chanted by the young artist and her friends.
Sabrina presented three works. The first, entitled PanzerStopper, is a bench covered in engraved texts – testimonials from friends, anecdotes and stories about the world around us.
On the floor, 'Mother warrior houses', an installation by Sabrina Röthlisberger. And the chandelier 'PanzerStopper part 2' by the same artist. Michel Giesbrecht
The second entitled Mother warrior houses, is an installation evocative of a Nativity crib or a princess in a fairy tale. For this work, the artist drew on her own difficult past and her very early separation from her family.
Finally, the artist presents her work PanzerStopper part 2 – a wooden chandelier hanging on chains from the ceiling and adorned with candles.The cherrywood planks bear inscriptions such as 'I WANTED 2 BE A TEACHER' and 'I WANTED 2 BE A POET'.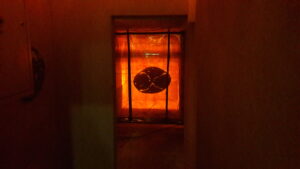 Work and installation by Guillaume Denérvaud
The newspaper Le Temps awarded its prize to Guillaume Denérvaud, and will now produce a supplement featuring several of his works, to be offered to its subscribers in a few weeks' time.
The L'ORANGER exhibition is open and free of charge at the Living Your Head gallery (2 rue Général Dufour) until 18th February (from Wednesday to Saturday, 2 pm to 7 pm).
The artists' work will also be exhibited at the New Heads – Fondation BNP Paribas Art Awards stand at the artgenève art show from 26th to 29th January in Palexpo.