The project "1hr per m2: a student under my roof" received the canton award for sustainable development
June 6, 2018
The project, "1hr per m2: a student under my roof", is an initiative funded and co-founded by BNP Paribas Swiss Foundation. The project has received the canton award for sustainable development with around fifty student/senior citizen pairings. The initiative aims to combat social isolation, while facilitating student housing solutions in Geneva. "1hr per m2: sharing with a student" was set up in 2016 by BNP Paribas Swiss Foundation, the organisation Pro Senectute and the University of Geneva.
An intergenerational project
More than just renting a room, "1hr per m2" is a true exchange between host and the student welcomed into their home. As its name suggests, a room of a certain size is made available in exchange for a few hours spent lending a helping hand: help with shopping, computer use, foreign language classes and more besides. But beyond this help, the programme brings a human presence to senior citizens and has a real impact on public health for this sometimes vulnerable population. Those aged over 70 years make up 40% of the programme hosts, and the majority live alone.
Economic and environmental gains
Students benefit from a lower cost room as they pay a fraction of normal rates. With these savings, students have more time to concentrate on their studies and build relationships with Genevese residents, since most come from abroad to study in Geneva. Additionally, all the rooms allocated through this programme in 2017 amount to around sixty rooms freed up for others – the equivalent of a small university hall of residence which now does not need to be built.
A successful public-private partnership
Following a 3-year pilot phase, the partnership between BNP Paribas Swiss Foundation, organisation Pro Senectute and the University of Geneva has been extended to 2021. In the first year, 23 pairings were made. By 2017 the number had doubled, with 53 pairs currently sharing a house. This success demonstrates that a real demand exists in Geneva, but also shows how much hosts and students enjoy living together.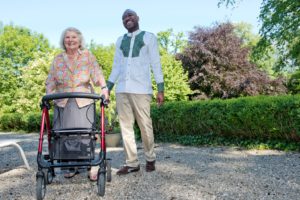 Marius and Mme Berthier walking at the park
© Kathelijne Reijse Saillet
The canton award for Sustainable Development
Presented each year to initiatives run by public or semi-public organisations, this annual award contributes to the implementation of Agenda 21, a sustainability commitment made by the canton. Agenda 21 aims to support and encourage civil society to take action, both in Geneva and the cross-border area.